With the advancement of mobile phone technology, many tasks can be done via mobile phone. BizCloud App is the exact application that will help your HR admin and employees to achieve more.
BizCloud App is fully integrated with our HRM e-Leave System, employers and employees can access the HR e-Leave System by just using a smartphone.
Our support personals will help you to do setting and operations online. There are a few channels of how we can support you. From calls, WhatsApp, Skype, AnyDesk or do remote PC support via team viewer. Please feel free to contact us for any enquiries.
Tap on the "BizCloud App" BLUE button for a few seconds.
Continue by tapping the "Download Link" button.
The download process will start within a few seconds.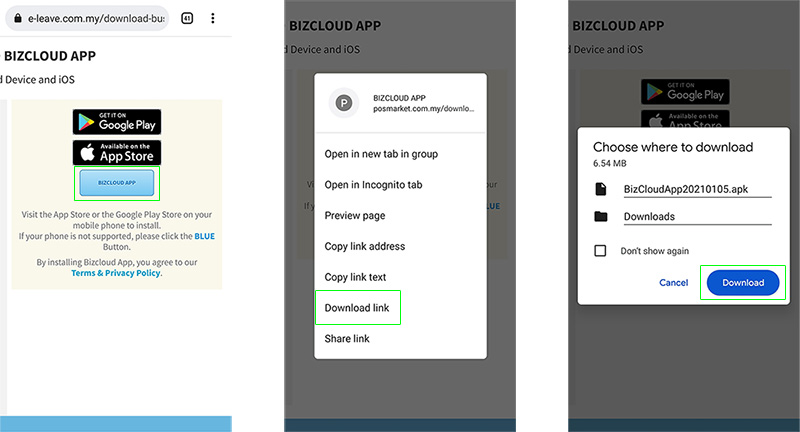 BizCloud App
 can be downloaded from Google Play, App Store, Huawei AppGallery, or by downloading the APK installation file here. The application is free, and it needs to login with BizCloud HR Suite's username and password.



Visit the Google Play, App Store, or the Huawei AppGallery on your mobile phone to install. If your phone is not supported, please click the BLUE Button.
A Reliable Companion In Your Phone

Employees can apply for leave from their mobile phones
Attach photo, medical certificate etc. with the leave application
Check their leave policy and balance
Approve leaves from a mobile phone
Receive notification

Employee can scan QR code for attendance capture with QR-FP, QR-GPS
Employee can clock in with mobile phones with GPS clock-in
View event calendar
Receive notification

Employees fill-up the e-Claim form from their phone
User can snap a photo to attach with their e-claim form
Admin will make the decision to approve the claim or reject the claim
Receive notification