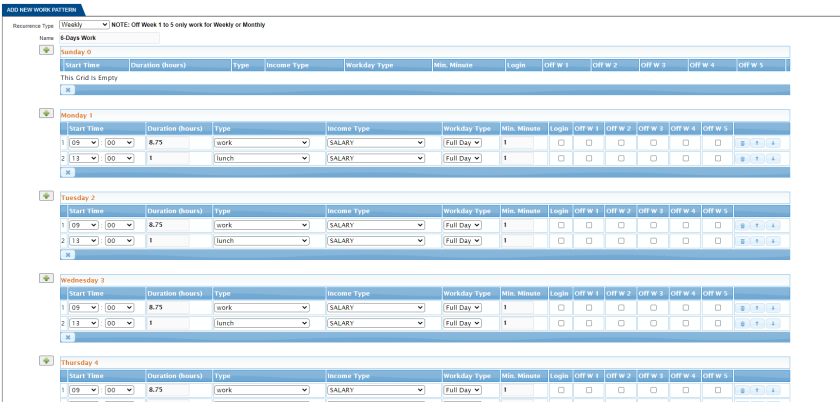 In our HRM e-Leave System, we can put every employee's working pattern in the company. The company uses work patterns to specify which day an employee works and how much entitlement would be deducted if they were to have a particular day off. Their day off could be deducted in the form of salary or annual leave.
Work patterns can be used for employees who work on rotating shift patterns. Human Resources can set the shifts every week for the employees on different shifts. If the staff has set a working pattern but still works overtime, the attendance system will show the staff 'overtime.'
This work pattern function is suitable for most organizations. From Food and Beverages (F&B) to manufacturing companies, retail shops, private companies, small-medium enterprises (SMEs), government sector, and more!
Scenario 1
Food and Beverage Industry. Mr. Rahman, a Restaurant owner, can set working patterns by using our HRM e-Leave System for both full-time and part-time staff. He can arrange his staff on a rotating shift to have a fair schedule and prevent overstaffing or understaffing in his restaurant. He is then able to check who is on leave and who is on duty from the system.
Scenario 2
Manufacturing companies, Private companies, SMEs, Retail shops, etc. The Human Resources Department can arrange and set working patterns using our HRM e-Leave System for the organization's staff. For certain positions, they may be required to work in shifts (day/night shifts) in order to support the organization.
Besides that, due to the current COVID-19 pandemic situation, it is essential to maintain social distancing and preventing crowds. Therefore, some companies will arrange a work pattern for their staff to work in the office when required. HR will organize and set accordingly in the e-Leave System. As a result, reducing the crowds and maintaining safety among staffs.