Leave Notifications by E-mail and Bizcloud Apps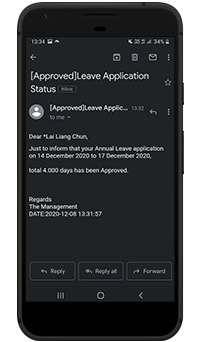 Leave Notification by Email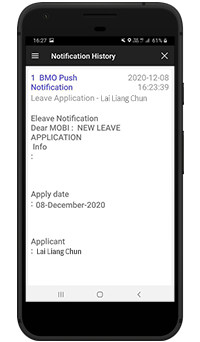 Leave Notification by Bizcloud Apps
Whenever employees apply for leave online from the system or manual form application, sometimes due to unforeseen circumstances, the Human Resources will overlook the leave application notification received from the employee.
As for HRM e-Leave System, whenever company staff applies for leave from HRM e-Leave System or from the Bizcloud App, HRM e-Leave System will automatically send an e-mail or push notifications in Bizcloud App to approver once there is any leave application. The approver will then either approve or reject the leave application. Push notifications for the Bizcloud App can be subscribed to for RM50 per month.
The benefit of having push notifications for the Bizcloud App is that it gives the approver a more convenient and less hassle way of approving leave applications. The approver can just approve or reject the leave using a smartphone after being notified immediately without being on the computer.