A.I. Assisted in Attendance Analysis
With the advent of Artificial Intelligence (A.I.), attendance tracking has evolved to a whole new level. Introducing our A.I. Based Attendance System that revolutionizes the way you manage employee attendance and time tracking.
More Attendance e-Leave HRM System Features.
Beyond Basic Clock-in and Clock-out
Our A.I. Based Attendance System offers a comprehensive solution that goes beyond basic clock-in and clock-out times. Powered by advanced algorithms and machine learning, our attendance system automatically traces start work, end work, overtime, late arrivals, etc., providing you with valuable insights and unparalleled accuracy in attendance management.

With our A.I. based attendance system, you can go beyond the limitations of traditional attendance tracking and gain comprehensive visibility into your employees' work patterns. Save time, less human error.
By using our A.I. attendance analyzer, you can summarize the attendance list into a useful summary that includes essential information.
Traditional Attendance System
A.I. Based Attendance System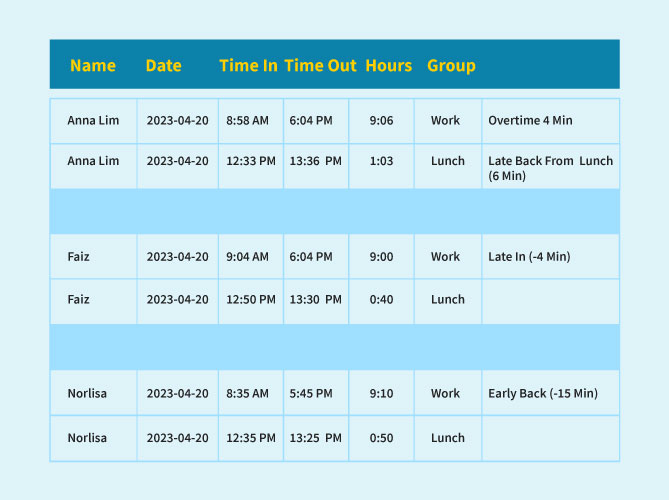 Benefits of A.I. Based Attendance System

Eliminates the possibility of human errors that can occur with traditional manual systems, providing accurate attendance records.
Automatically generates attendance reports and calculates the number of hours worked by each employee, saving administrative time and effort.

Eliminating the need for manual data entry, these systems reduce administrative costs and free up staff to focus on other tasks.
Identify patterns of absenteeism and lateness and take appropriate measures to improve productivity and make better use of resources.
Here's How Our A.I. Based Attendance System Outshines Traditional Attendance Systems
Automated Start Work and End Work Tracking
Our attendance system automatically captures the start work and end work times of employees, providing you with a complete picture of your employees' work hours. Our system uses advanced algorithms and machine learning to analyze data from multiple types of attendance devices, including fingerprint devices, QR GPS devices, and face recognition devices, to provide you with accurate attendance records.


Our A.I. based system automatically detects and tracks overtime hours worked by employees, giving you real-time visibility into the additional hours put in by your staff. This helps you manage overtime costs and comply with labor laws.
Late arrivals and late returns from lunch breaks can also be easily identified with our A.I. based attendance system. You can set up customized work pattern to track employees who arrive late to work or return late from lunch breaks. This allows you to address attendance issues promptly and take appropriate action to ensure punctuality and productivity in the workplace.


Our A.I. Based Attendance System provides detailed reports and analytics that offer deep insights into attendance trends, patterns, and exceptions. This empowers you to make data-driven decisions, optimize scheduling, and improve overall workforce management.
Integration and Accessibility
Our A.I. Based Attendance System seamlessly integrates with e-Leave Systems, and leave applied will be automatically reflected in the attendance list. The system is also accessible via web and mobile devices, allowing you to track attendance on the go and from anywhere, anytime.

Learn how our innovative solution can revolutionize your workplace attendance tracking and simplify your HR operations today!